China police certificate is also known as Certificate of No Criminal Record/Conviction. A non-Chinese citizen who has lived in China may need a China police certificate for purposes of immigration, job application, adoption or school admission. Most China police certificates are used in connection with popular migration destinations such as the United States, Canada, Australia and New Zealand.
China does not have a central authority that issues police certificates to foreign nationals. Instead, local authorities in each city are in charge of the issuance. If you are not a citizen of China, each certificate will only cover the time of your residence in the city. If you have lived in multiple cities, you may need a separate certificate for each city.
What China a Police Certificate Looks Like?
Below is the correct format of a China police certificate acceptable to the immigration authorities of Canada, Australia, the UK and New Zealand. (The format required by the United States has additional two pages.)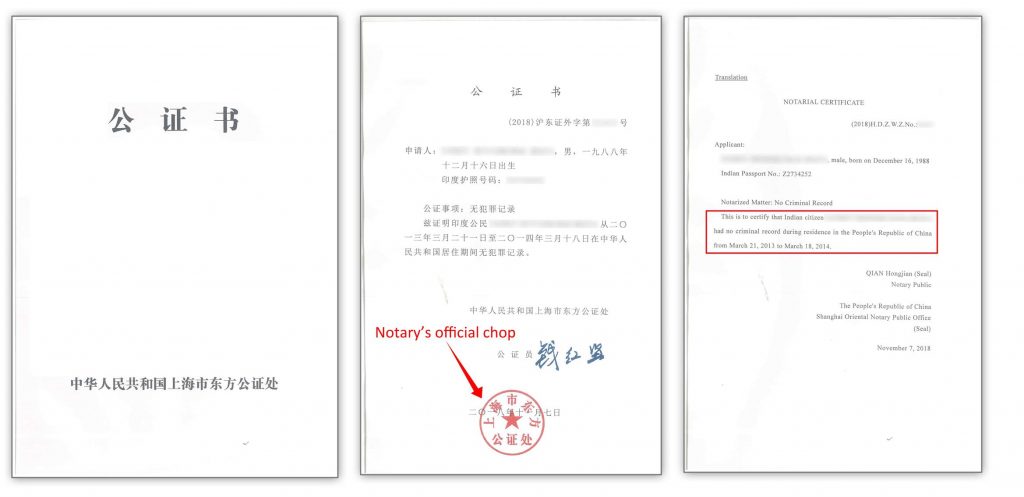 Format for U.S. Immigration
The format of China police certificates for purposes of U.S. immigration has two more pages, which certify the accuracy of the English translation shown on the previous page. These additional pages are required by the U.S. authorities. [1]

A Few Things You Should Know About China Police Certificates
It should be a notarial certificate.
If a China police certificate is to be used in a country outside of China, it shall always be a notarial certificate issued by a local notary office in China. Police certificates issued by local police departments (like the one below) will not be recognized as valid by non-Chines authorities before it has been notarized.
It should always come with English translation.
A notarial police certificate should always come with an English translation (except for use in some non-English speaking countries).
Occasionally, someone asked me if it is a mistake that there's no red chop on the translation page of a notarial certificate. The answer is "No". We've seen hundreds of notarial certificates where the translation pages bear no red chop and the certificates were always accepted by immigration authorities of the U.S., UK, Canada, Australia, New Zealand, etc.
It only covers specific periods.
A China police certificate only certifies no criminal record for specific period(s) of your residence. Make sure you have requested the issuing authorities to cover the entire time of your stay in China. But, if you don't have sufficient evidence to prove your time of residence, the police certificate may only cover partial time.
Its period of validity depends on the purpoes of your use
See The Validity of China Police Certificates
How to Apply for a China Police Certificate?
See our Guides to Applying for a China Police Certificate.
Our service
We are specialized in assisting foreigners in obtaining China police certificates or preparing statements explaining why certificates are unobtainable. If you are interested in hiring us, please click the below button to fill in a quote request form.
[1] See U.S. State Department's instructions about translation, last reviewed on Jan. 2022.