Documents issued or executed in one country and intended for use in another country are often required to be authenticated by the embassy/consulate of the country where the documents will be used. Foreign nationals who apply for China immigration documents or China police certificates may be required to submit passport copies and powers of attorney authenticated by a Chinese embassy/consulate. In this article, we outline the general steps for applying for China consular authentication.
China Consular Authentication Procedures
The procedures for getting China consular authentication vary from one country to another. Typically, the application takes 3 steps.
STEP 1: Get the document notarized by a local notary public.
For example, a power of attorney executed in the Province of Ontario, Canada, needs be notarized by a notary public commissioned by the Province of Ontario.

STEP 2: Get the document authenticated by a foreign affairs department.
For example, the above-mentioned notarized power of attorney needs to be authenticated by either (1) Global Affairs Canada in Ottawa (previously known as Department of Foreign Affairs, Trade and Development Canada), or (2) Official Document Services of Ministry of Government and Consumer Services in Toronto.
STEP 3: Get the documents authenticated by a Chinese embassy or consulate.
Find Specific Instructions for Chinese Consular Authentication in Your Country
It's always easy to find a notary public (STEP 1) and locate a China consulate/Embassy. What difficulty is figuring out the appropriate authorities in STEP 2, as they are different from one country to another and from one state/province to another.
Chinese Visa Application Service Center (CVASC)
The first place where you can look for the authentication instructions in your area is the Chinese Visa Application Service Center (CVASC) at https://www.visaforchina.org/. CVASC has branch offices in major cities around the world. Go to their website and choose your location. You will find instructions about Chinese consular authentication. If you have any questions or concerns about their instructions, just call their customer representative. Please note that Chinese consulates in some countries outsource their authentication service to CVASC, so that authentication applications in these countries have to be filed with CVASC instead of filing the applications directly with the Chinese consulates.
Official Websites of Chinese Consulates/Embassies
Another place to look for instructions is the official website of the Chinese consulate where you will apply for consular authentication. For example, the Chinese Consulate in Toronto, Canada, posts an instruction about consular authentication at http://toronto.china-consulate.org/eng/vp/na/t946459.htm. If you can not find any instructions on their website, consider contacting the consulate on the telephone or visiting in person.
Third-Party Agencies
In addition, there are some third-party agencies that provide services for getting authentication. You find such agencies by searching on Google, using keywords such as "Authentication/Legalization Canada".
Sample Authenticated Documents
An authenticated document typically has multiple pages bounded together, sometimes by a ribbon.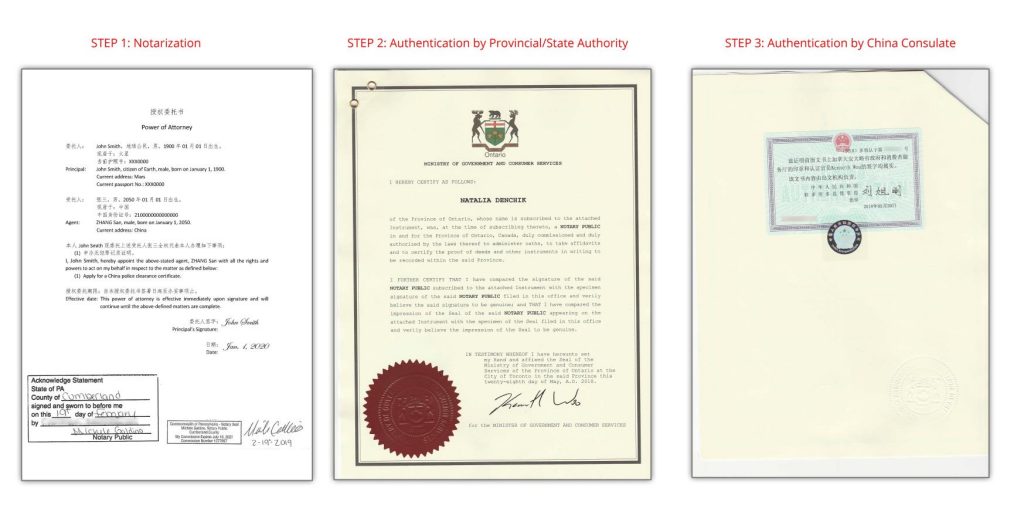 Conclusion
Thanks for reading.